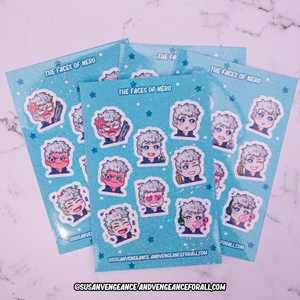 And Vengeance For All
Nero Chibi Holographic Sticker Sheet
Regular price
$6.00
$0.00
Unit price
per
Sticker specs:
Sticker sheet is about 4x6 and features 8 different Nero chibis with various expressions! Each Nero sticker itself is about 1.25 inches in size and is laminated with holo dots or holo stars. These sheets are printed and cut by me so sizing may vary.
Please also be aware, laminate on the sheet itself may feature some imperfections but the actual stickers will remain unaffected. Since these are kisscut, please be aware the white borders may not be perfect on every sticker.
The laminate itself is weatherproof but should not be washed or exposed to heavy rain or elements. 
---